Shipping is temporarily unavailable. Buy online and pickup in-store.
05.04.2021
5 Occasions To Celebrate With Nature's Organic Ice Cream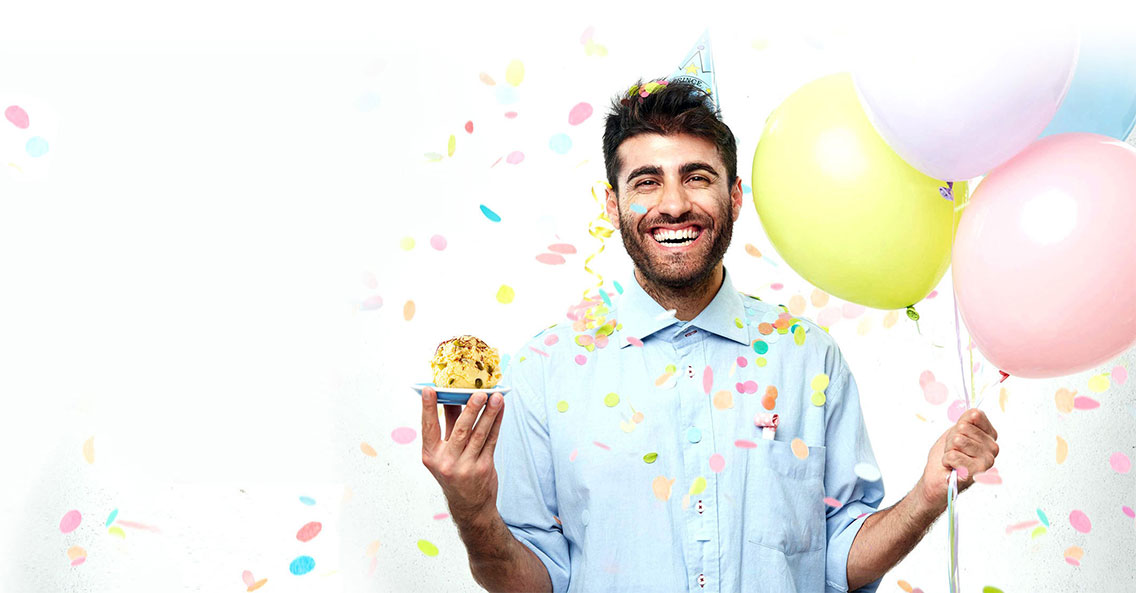 Here at Nature's Organic, we love an excuse for a good old celebration. Whether it's for a birthday, an anniversary, or just throwing yourself a little party for the heck of it – we're first in line to mark an occasion. In fact, the origins of many of our flavors are pretty much rooted in the act of celebrating.
When Supraja started up Nature's Organic, she wasn't just looking to stockpile healthier ice cream for herself and her kids (although that is a perk.) She was also looking for a way to celebrate tantalizing and unique ice cream flavors from different cultures and countries. So no matter what event you've got planned and no matter what your palette prefers, we've got a special occasion ice cream that will go perfectly. Oh, and did we mention that every single product is naturally and organically sourced? We think that's something worth celebrating all on its own!
But in case you were looking for a real reason to celebrate life with a tub of our delicious organic ice cream, we're about to give you five of them:
The Classic Birthday Treat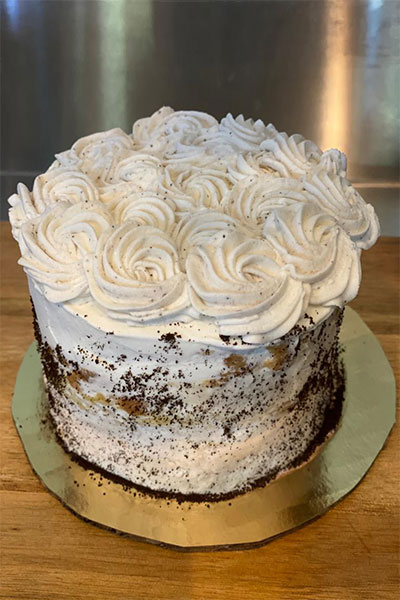 Is it even your birthday if you don't eat all the ice cream? We don't think so! That's why as soon as the team at Nature's Organic mastered the art of ice cream making, we crafted our own version of birthday heaven. The result was our Birthday Cake flavor – one of our proudest creations. Whether it's your nephew's 8th birthday or your grandma's 80th, everybody loves a bowl of our most festive flavor. Churned with sweet organic cream buttermilk, real chunks of vanilla pound cake, and topped with natural party sprinkles – this classic vanilla taste makes for the classic birthday celebration treat that everyone will love.
The Heavenly Pamper Night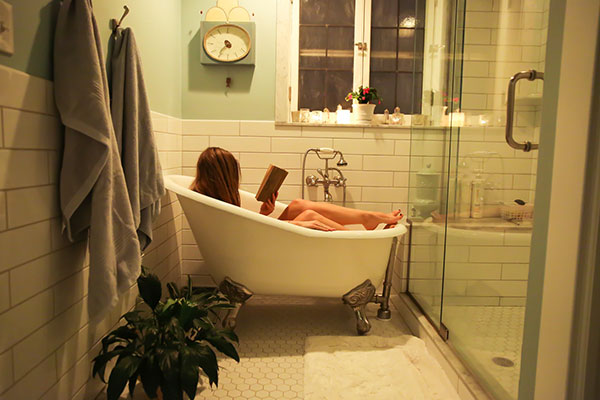 Sometimes the best celebrations are the ones where the party is just for one. In this case, the celebration involves candles, a luxurious bath, and our favorite face mask. But what could possibly take a self-care session like this to the next level? Well, we have just the answer in our Honey Lavender organic ice cream flavor. This is a dessert tub that's even more relaxing than a bathtub. Every mouthful will sink you deeper into a world of total R&R, with its deliciously smooth and flowery taste, augmented with a hint of honey. It simply wouldn't be pamper night without it.
The Romantic Date Night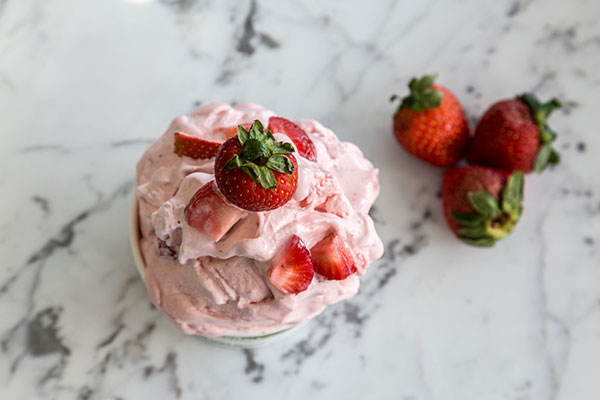 Nothing quite says romance like rose petals, right? Well, that's exactly what makes our delicious Rose ice cream the perfect dessert to indulge in with your other half. Made from real crushed rose petals, natural rose water, and organic sweet cream buttermilk, you'll both find yourselves falling in love with every mouthful of this gorgeously natural ice cream. So whether you're celebrating with a movie and chill or out for a romantic stroll on the beach – make sure you and your bae pick up a tub of our Rose ice cream first and set the night off to a sweet start.
The Big Kids Day Out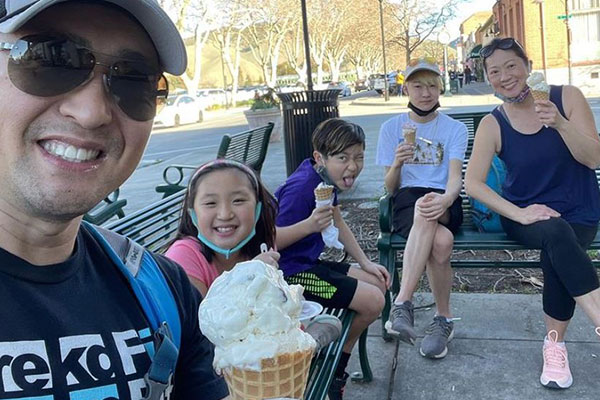 Ever noticed that your kids will probably always go for the most colorful ice cream choice in the dessert parlor? And ever realized that those flavors are probably the most loaded with dyes and junk-filled additives? Well, not anymore, thanks to our totally natural Unicorn Vanilla flavor! It might have a classic taste, but this one has the fun appearance of a crazy dessert that kids will love, with its magical swirls of natural pink and blue. So next time you're making a day of it with the little ones, be sure to grab a tub of this flavor to take with you all and make a real occasion of it!
The Ultimate Girls Night In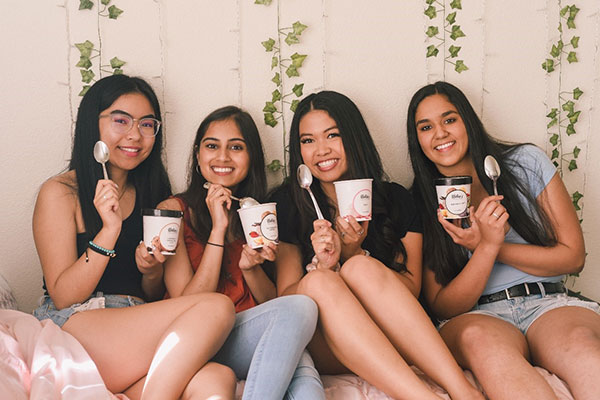 We're not so sure about getting caught in the rain, but we do love a pina colada around here. And who better to enjoy them with than your best gal pals? It's time to invite the ladies over for a pineapple party – but hold the rum! Because we're talking about dishing out our unbelievably delicious Vegan Pina Colada ice cream instead. Think the flavors of fresh ripe pineapples and our decadent Organic Coconut Cream. Call us biased, but we think it even beats the cocktail and we're pretty sure your gals will agree…
The Final Scoop
So why opt for Nature's Organic for your big celebrations when there are so many other ice cream choices around? Well, just like our methods, the answer is pretty simple: Better ingredients, better flavor, better taste. Unlike other ice creams laced with too much sugar, artificial additives, emulsifiers and other processed ingredients – we do things the natural way. Not only are our ingredients wonderfully organic, but our business practices are as ethical and sustainable as can be.
Every single ingredient that goes into our ice cream has been carefully sourced and we're totally committed to making flavors for everyone, no matter what your specific dietary requirements or tastes. Because after all, we think absolutely everybody deserves to celebrate with a bowl of ice cream!
Welcome to
Nature's Organic
Rewards & Referral Program
Become a member
Many ways to unlock exciting rewards, this is your all access pass to earn points.
How to earn points?

1 Point = $0.50

Make a purchase of $10.99

Earn 4 points

Make a purchase of $12.99

Earn 5 points

Write a review

Earn 3 points

Refer a friend

Earn 3 points

How to redeem points?

1 Point = $0.50

You can easily redeem your earned points when placing your next order.