Shipping is temporarily unavailable. Buy online and pickup in-store.
06.27.2022
5 Exotic Ice Cream Flavors You Should Try This Summer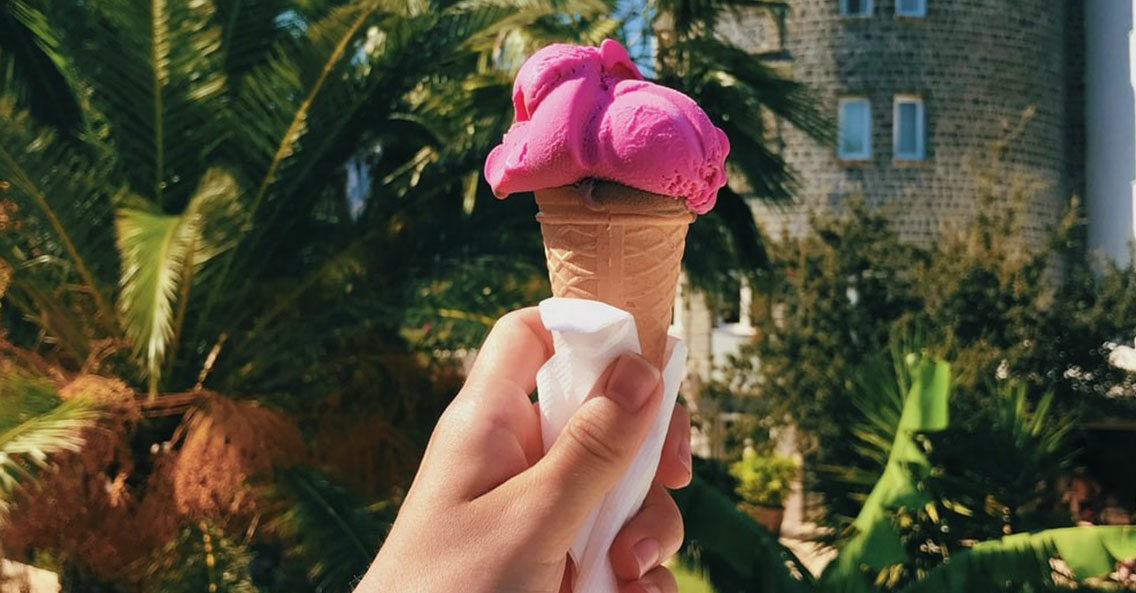 Ice cream flavors are no longer limited to the classic vanilla, chocolate, or even strawberry. The good old scoop of ice cream has changed, from familiar to unknown, creating something incredibly delicious. These fascinating changes have brought exciting flavors to life, providing the best way to overcome the heat than to enjoy while broadening your horizons.
If you're an ice cream aficionado, you've probably already tasted some of the delicious and unique ice cream flavors available, but in case you haven't, or may have missed a few goodies, we want to share some of Nature's Organic's best exotic ice cream flavors that should be on your radar this summer. We will even add in some easy ice cream recipes to try when you have some free time.
The 5 Best Ice Cream Flavors You Need to Try
When it comes to enjoying summer ice cream, we all have flavors that we prefer and often stick to. However, we are challenging you to step outside your comfort zone and try our all-natural ice cream flavors that are like no other.
Created to offer an extraordinary taste sensation by playing on contrasting flavors, our exotic creations are truly something to behold if we do say so ourselves. So, to discover some of the flavors on offer, keep reading!
1. Honey Lavender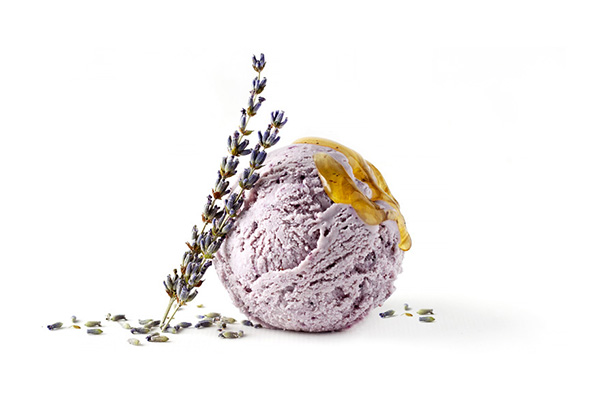 Our honey lavender ice cream has a sweet taste, creamy texture, and a lovely floral flavor while the honey adds an earthy tone to balance it out. Many have said that this flavor has a calming effect, something that the lavender herb is famous for. This refreshing ice cream remains the most recognized exotic taste and favorite of all time!
Pairs well with: Tart, almost sour flavors like fresh berries or citrus fruit. We recommend a berry compote with a hint of lemon. It cuts through the creaminess and takes the ice cream to the next level.
2. Falooda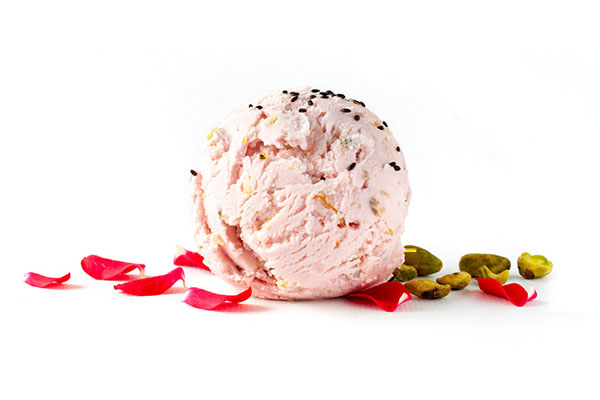 Although our organic Falooda ice cream is exotic ice cream, it borrows inspiration from the famous drink. We started with our typical pink ice cream base made from the best Lebanese rose water and wrapped it in basil seeds, noodles, and pistachios. The result is a sweet and creamy, almost milkshake-like experience, you need to try our Falooda flavor. It also has a slight tangy after taste which elevates the experience.
Pairs well with: Given that the ice cream is already packed with flavor and textures, we recommend adding chopped-up nuts, rose petals, and a syrup of your choice. You can also add fresh fruit like mango or berries.
3. Custard Apple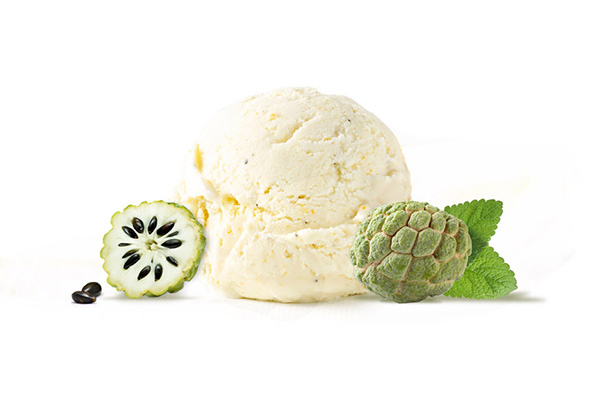 Our Custard Apple flavor is made using cherimoya, a Caribbean fruit.  This ice cream is made without artificial ingredients, only pure pulp from tropical fruit just for you! It has a creamy, custard-like texture and taste with a tropical fruit flavor that lingers. And did we mention that it's gluten-free too?
Pairs well with: We love adding a drizzle of honey and granola or muesli to this ice cream. You can also top it with fresh nuts and a sprinkle of cinnamon if you're looking for something a little different.
4. Honey Matcha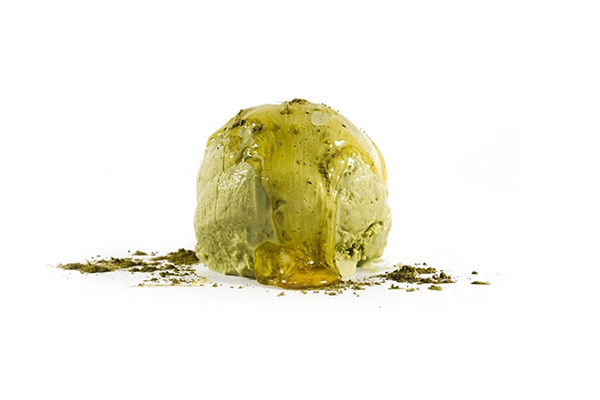 We combine organic, high-quality matcha with honey from California to create this unique taste – Honey Matcha. The slightly sweet yet bitter flavor of matcha is balanced with the addition of honey to the mix.
Pairs well with: A homemade toffee sauce goes well with this – believe it or not. If that's not your thing, adding citrus fruit, like lemon, works really well too.
5. Saffron Pistachio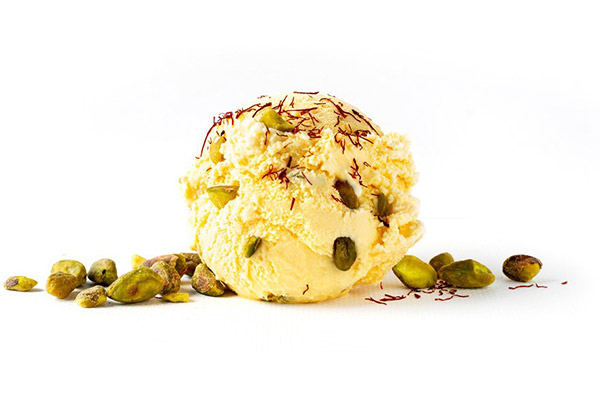 Favorite taste of the East, we used the honey taste and the smell of saffron. We soaked the saffron for two hours before crushing them in organic milk and mixing them with roasted California pistachios for a lightly chewy texture that results in a perfectly sweet and organic Saffron Pistachio ice cream. The almost nutty vanilla flavor of pistachio comes together with the soft creamy, almost warm flavor of saffron to unleash a sensory experience like no other.
Pairs well with: A rose water syrup pairs beautifully with this ice cream. Another great option is banana and maple syrup.
It's Time To Discover Exotic Ice Cream Flavors
This summer, say goodbye to the boring old ice cream flavors you're used to, and take a chance on something new. Our range of exotic ice cream flavors will have you on your toes while keeping you cool. And the best part? We make all-natural ice cream using locally sourced, organic ingredients. So, while you're trying our different flavors, you can rest assured knowing that you are enjoying only the best ingredients.
To get your ice cream adventure started, why not buy a pint or two online? We offer 10% off first-time orders, as well as free deliveries on orders over $45 in the SF Bay area.
Welcome to
Nature's Organic
Rewards & Referral Program
Become a member
Many ways to unlock exciting rewards, this is your all access pass to earn points.
How to earn points?

1 Point = $0.50

Make a purchase of $10.99

Earn 4 points

Make a purchase of $12.99

Earn 5 points

Write a review

Earn 3 points

Refer a friend

Earn 3 points

How to redeem points?

1 Point = $0.50

You can easily redeem your earned points when placing your next order.