Shipping is temporarily unavailable. Buy online and pickup in-store.
03.04.2022
There's No Perfect Time to Eat Ice Cream! Know Why?
This post is going to leave many of you ice cream lovers out there rather happy – and you can thank us for this wonderful news by enjoying a pint of your favorite organic ice cream.
To start with, we have good news and bad news. The bad news is that there's never a perfect time to eat ice cream – cue screams of panic! The good news, however, is that is cream is a treat that you can choose to eat at any time during any season.
Of course, making a bold statement like this requires a bit of information to back it, and we've got just the thing. So, keep reading and get ready to enjoy a scoop of delicious ice cream whenever you feel like it!
The Benefits Of Eating Ice Cream
This will differ per ice cream brand, but when it comes to Nature's Organic and our delicious range, our flavors are made using only the best, freshest organic ingredients. These fresh ingredients are packed with nutrients and one of the greatest benefits associated with enjoying a scoop of ice cream.
In addition to this, our ice creams are chemical, preservative, and additive free, make it the more health-conscious option when it comes to ice cream.
Additional Benefits Include:
Encouraging the production of serotonin, the feel-good hormone found in the brain
Provides energy
Builds strong teeth and bones due to the calcium content
Can improve immunity
It's a delightful treat that will bring a smile to your dial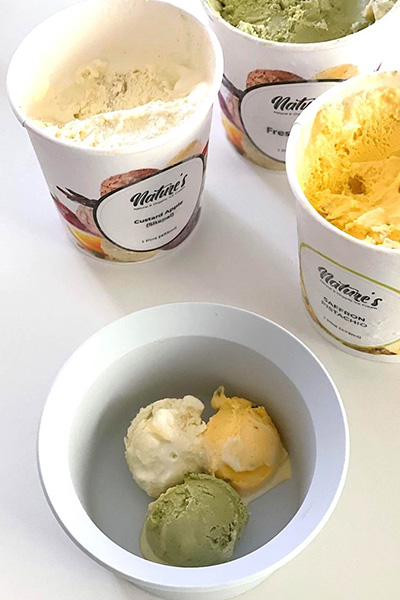 Is It Bad To Eat Ice Cream In The Morning?
Given that we've said there's no perfect time to eat ice cream, this question is bound to pop up. Is ice cream for breakfast a bad idea or should you only consider eating ice cream at night?
Breakfast is the most important meal of the day and as such needs to be nutrient rich. While a scoop of ice cream alone may not be substantial, it can be added to your meal for a pop of flavor. You can add some to your smoothie or pop some on top of your pancakes with some fresh fruit.
As long as you're feeding your body the nutrients it needs to function, there's no harm in incorporating some ice cream into your breakfast every once in a while.
What Is The Best Season To Eat Ice Cream?
Ah, the million dollar question that has many ice cream parlour owners scratching their heads. The stereotype exists that ice cream is a summertime treat and therefore only suited for the warmer months.
This is really silly when you think about it. Ice cream is more than simply a treat to cool off. It's a sensory experience. It's about experimenting with flavors and finding what works and what doesn't. It's even versatile enough to add to other desserts and meals. There's nothing quite like a warm fudge brownie topped with a scoop of ice cream, or the classic ice cream and waffles…
We shouldn't be asking when it is appropriate to enjoy a scoop or two, but rather, why aren't we enjoy it more often.
Dare To Be Adventurous
In a world where people debate the "right time" to spoil themselves with a scoop of fresh, delicious ice cream, dare to be bold. Keep a pint or two in the freezer for whenever the mood strikes, don't be limited by seasons.
If you need to stock up, why not head on over to our online store? Shoppers in the SF Bay area will even receive free delivery for orders over $45.
Welcome to
Nature's Organic
Rewards & Referral Program
Become a member
Many ways to unlock exciting rewards, this is your all access pass to earn points.
How to earn points?

1 Point = $0.50

Make a purchase of $10.99

Earn 4 points

Make a purchase of $12.99

Earn 5 points

Write a review

Earn 3 points

Refer a friend

Earn 3 points

How to redeem points?

1 Point = $0.50

You can easily redeem your earned points when placing your next order.